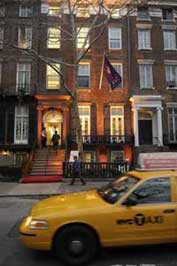 The building which houses The Jean Monnet Center– the townhouse at 22 Washington Square, renovated in 2009, has a rich history, as do its surrounds of Washington Square Park and New York City's Village.
Our Remarkable Space
We are so proud that the renovations have resulted in a beautiful home for our Fellowship Programs, which serves as a location for multiple events both large and small, both academic and social. Seeing the space filled with glorious art, food and people is satisfying to all.
Art in the Space
Visitors to the building can view a large collection of art in the space, including works from faculty , students and alumni of the Steinhardt School of Culture, Education, and Human Development at NYU. The buildings artwork is curated by Professor Nancy Barton, Clincal Associate Professor, and Chairperson of Art and Art Professions at the Steinhardt School. A number of pieces from local galleries as well as Professor Weiler's personal art collection are also on display throughout the building.
Renovations to 22 Washington Square
NYU School of Law commenced renovations to 22 Washington Square in June 2008, and completed them in August 2009 – ready for the arrival of the inaugural Fellows.  NYU's manager for the renovations is the redoubtable Lillian Zalta, Assistant Dean for Operations & Administrative Services.
Architects for the renovations were Morris Adjmi Architects, a New York City based architecture and interior design firm. Morris Adjmi established MA in 1997 following a successful 10-year partnership with the renowned Italian architect Aldo Rossi.