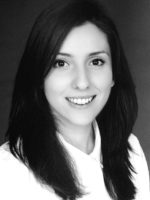 Vigjilenca Abazi is Assistant Professor of EU law at Maastricht University. She obtained her PhD degree at University of Amsterdam and her research on issues of secrecy in the European Union resulted in a monograph (Oxford University Press, forthcoming). She was a Fulbright Scholar at Columbia Law School (2014) as well as a visiting researcher at European University Institute (2016).
Her expertise lies in issues of democratic accountability, transparency and whistleblower protection, international negotiations and security policies in the EU. On these topics, she has published, among others, at Common Market Law Review, Cambridge Journal of International and Comparative Law, German Law Journal.  She is also a member of the Editorial Board of the European Journal of Risk Regulation and the Journal of European Integration.
Upon invitation, she has given numerous academic lectures including at Harvard Law School, NYU Florence, NYU Paris, European University Institute, University of Bologna, University of Copenhagen, Sciences Po Paris, and Durham University. She has also been invited to present her research findings at the European Parliament and the Dutch House of Representatives.
Research Project
Whistleblower Protection balancing Privacy and Transparency. Whistleblowing has led to recent revelations on abuses of power having global and severe implications: mass surveillance security programmes (Edward Snowden) and comprehensive tax evasion schemes (Panama papers). However a worrisome trade-off is involved – whistleblowing on the one hand contributes to transparency but on the other hand can deeply harm the privacy of individuals. The aim of this research is to provide an innovative analytical framework that allows an understanding of whistleblowing that reflects the inter-dependent nature of privacy and transparency. The research is focused on the EU and its member states, yet the resulting framework will advance scientific knowledge on whistleblowing more generally and offer solutions for practice. The results will be relevant not only in EU scholarly debates, but also in the US and international studies of whistleblowing protection. A claim to privacy is a claim to control access to one's personal domain. In cases of whistleblowing this control is taken away from the individual. What makes whistleblowing increasingly problematic is the amount of varied personal data that is digitally stored at an unprecedented pace. But at the same time we do have a problem of secrecy with the increase amount of official secrets and many significant decisions being made behind closed doors. Whistleblowing is a highly effective means of disclosure that initiates accountability. This project offers an in-depth qualitative study of whistleblowing protection while incorporating EU complexities in its framework. It also provides a look at practice through conducting semi-structured interviews with relevant stakeholders. Whistleblowing has a composite nature since it is both an accountability instrument to address illegitimate practices, abuses of power or corruption as well as a form of freedom of expression. This research addresses these aspects to whistleblowing and its implications for legal protection.