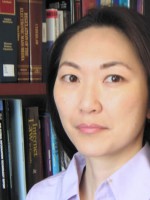 is Assistant Professor of Law at UCLA School of Law. Born in Seoul, South Korea and raised in Atlanta, Georgia, she earned her bachelor's (summa cum laude) and master's degrees from Emory University in 1988 and her law degree from Harvard Law School (cum laude) in 1992. She is a former Henry Luce Foundation Scholar (1988-89) and Robert Bosch Foundation Fellow (1992-93). Prior to law teaching, she spent many years in private practice until in 1999 she joined Red Bull North America as its general counsel.  As Red Bull's popularity surged and the company began marketing other products, she supervised all of the company's legal matters. In 2005, she began teaching at Southwestern Law School and in 2010 began teaching at the UCLA School of Law.
Professor Kim has written extensively about securities regulation and legal ethics. Her more recent scholarship has focused on insider trading, and her current work relates to sovereign debt.  Her scholarship has appeared in the Cornell Law Review, Florida Law Review, Fordham Law Review, Georgetown Journal of Legal Ethics, North Carolina Law Review, Proceedings of the American Philosophical Society, Securities Law Review, SMU Law Review, and University of Chicago Press. Her teaching areas include Business Associations, Contracts, Professional Responsibility, Securities Regulation, and The Psychology of Modern Legal Practice.
Research Project
The Last Nazi Bond and the Early Years of the SEC
As a Global Emile Noël Fellow, Professor Kim will engage in research for an article tentatively titled, "The Last Nazi Bond and the Early Years of the SEC" (coauthored with  Mitu Gulati, Professor at Duke Law School, and Mark Weidemaier, Professor at UNC School of Law). The goal of the project is to explore in greater detail the use of the voluntary exchange offer, one of many techniques used by the Nazi Government to prevent the outflow of foreign currency when it was in the midst of a foreign exchange crisis and ultimately to enable Germany's economic recovery during the interwar period. We would like to explore how the exchange offer was received and perceived by the holders of these credit obligations, who no doubt viewed the exchange offer as coercive in many respects, and what (if anything) the holders did to pressure the U.S. government in its foreign relations with Germany.  In addition, we would also like to understand how American actors, e.g., the U.S. paying agent for the German conversion bonds, the U.S. law firms, and the U.S. Securities & Exchange Commission regarded Germany's status as a frequent defaulter, as well as how they approached the fact that—by the time that the exchange offer took place—the German government was already known as a lawless government, given Hitler's 1934 purge of his rivals in the Night of the Long Knives.