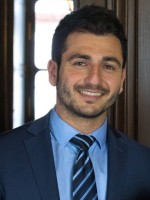 Samuel Dahan is an Adjunct Professor of Law at Cornell University and the Emile Noël Fellow at NYU School of Law. His fields of expertise are sovereign finance law, central banking law and mediation.
Prior to joining Cornell, Dahan clerked for the Conseil d'État (French Administrative Supreme Court). A former fellow of the Program on Negotiation at Harvard Law School, Dahan has been consulting for ESSEC-IRENE (the Institute for Research and Education on Negotiation) in Europe since 2008. He has consulted for the OECD (Organisation for Economic Development and Cooperation), the European Commission and the French Ministry of Foreign Affairs as well as private corporations, and served as an advisor to the European Commission's Directorate General for Financial Affairs. He has taught law and negotiation at the Ecole Nationale d'Administration (ENA), ESSEC Business School and Ecole Normale Supérieure as well as at Cornell Law School.
Samuel Dahan holds a doctorate in law from the University of Cambridge, where his research focused on regulatory responses to the euro crisis. He has studied law and dispute resolution in England (University of Cambridge); in France (University of Nice, Ecole Normale Supérieure, and the Sorbonne Law School); in Belgium (University of Brussels); and in the United States (Harvard Law School).
Research Project
Central Banking Regulation after the Crisis.
The international financial and monetary system is characterized by multi-level policy-learning instruments. This research places special emphasis on the usefulness of learning theory in evaluating whether pre-crisis legal and institutional flaws -- particularly financial (de)regulation, weak wage-policy instruments and the institutional flaws underlying the Economic and Monetary Union (EMU) -- have contributed to the development of the financial crisis and the euro crisis. Increased attention should be devoted to the question of whether the US financial crisis and the EMU crisis share similar institutional roots, and if so, to what extent pre-crisis policy failures have created an opportunity for policy-learning for central banks and international financial institutions (including the IMF and FSB).  In particular, the mandate of central banks (including the Fed, the ECB, the Bank of Canada and the Bank of Israel) has expanded into the areas of supervision recovery and resolution, both macro and micro. This expansion gives rise to new learning opportunities while at the same time posing new legal challenges that demand further exploration.