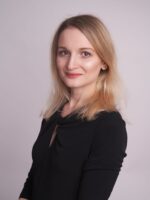 Olia is a postdoctoral researcher at the Center for IT and IP Law (CiTiP) of the KU Leuven. She holds a PhD in Law and an LL.M in International and European Public Law (cum laude) from Tilburg University. Previously, Olia worked as a researcher and lecturer at the Tilburg Law and Economics Center (TILEC). She was a visiting fellow at the Northwestern University Center on Law, Business and Economics of the Northwestern Pritzker School of Law (2019), a visiting researcher at the Chair of Innovation Economics, TU Berlin (2017), for which she received a Tilburg University mobility grant, and an exchange student at Vrije Universiteit van Brussel (2013). Olia has also gained professional experience in the fields of export controls, technical standards and European law in a multinational company and at the Legal Service of Eurojust, Operations Department of Europol and the Trade and Environment Division of the WTO.
Olia's PhD monograph "The Law and Practice of ICT Standardization" focused on the governance of private Standards Development Organizations (SDOs) operating in the ICT sector. It sought to reveal the extent to which current ICT standardization complies with the applicable procedural and substantive requirements, and whether increased scrutiny of SDOs is desirable to guarantee legitimacy of ICT standards. The ultimate aim of this PhD project was to bring legal and theoretical considerations closer to practice by evaluating procedural guarantees in a number of SDOs in the light of current practices and tendencies in the industry, which were revealed in a qualitative empirical study.
Olia's work on ICT standardization, due process and labelling and customs rules was published in a number of European and American journals and book volumes, and presented at international conferences in Europe, the US and China. Her master thesis on compatibility of EU labelling rules on trade with occupied territories with the the WTO TBT Agreement was awarded the first prizes by the Dutch Association for European Law (NVER), and by the Tilburg Law School (2014). Olia's research interests include economic law broadly, and in particular, technical barriers to trade, civil society participation in technocratic regulation and governance by emerging technologies, including smart cities. As an Emile Noël Fellow, Olia will further develop her research on legitimacy of trade with occupied territories under WTO law.
CONTACT: osk2008@nyu.edu
Research Project
Between international custom and technical customs rules: regional practices for trade with occupied territories under WTO law.
Trade with occupied territories has recently came to the forefront due to the decisions of the Federal Court of Canada and of the European Court of Justice concerning the designation of origin for products from Israeli settlements. By ruling that the omission of the label "Israeli settlements" on products originating West Bank would mislead consumers as of the true origin of the goods and prevent them from making an informed choice or express their freedom of speech, the Courts arguably stretched the concept of technical barriers to trade to considerations of international law. Although so far applied only in the context of occupied territories, such development has broader implications for trade practices and requires revisiting the relationship between international law and customs rules. This research project seeks to examine how the civil settlements in the Occupied Palestinian Territories have been treated for the trade purposes by the Israel's Western trade partners: the European Union, the United States and Canada, and whether, and to what extent, are these practices legitimate under the World Trade Organization (WTO) law. Eventually, it aims to advance the research dealing with occupation regimes through offering an approach that is practice-oriented and takes into consideration the broader issues of international law and States' trade policies.