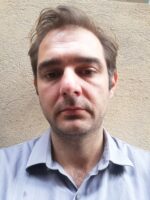 Nedim Hogic holds an LLB from University of Sarajevo, LLM from Harvard Law School and a PhD in Law from Sant' Anna School of Advanced Studies. He has authored a number of articles in the field of corruption studies, international law and rule of law and development. He has advised clients in the private and public sector on the approaches to environmental, social and good governance issues. Specifically, he has consulted local and international actors on capacity building of parliaments and political parties in Southeastern Europe and on development of anti-corruption policies. Currently, he is writing a book on the judicial anti-corruption campaigns.
Contact: nh2498@nyu.edu
Research Project
Judicial Anti-Corruption Campaigns and Their Consequences - The Constitutional Crisis in Romania.  As a part of my dissertation project, I have studied the judicial anti-corruption campaigns in Italy, Brazil and Romania seeking to map their common characteristics such as the elevation of judicial reputation, rule of law challenges and the countermobilizations against them. At NYU, I will focus on developing these findings into a book and in particular on the aspects related to the constitutional crisis that occurred in the aftermath of the anti-corruption campaign in Romania. I believe that this research is important as it explores important contemporary topics such as judicial populism, populist constitutionalism and the judicialization of politics. All these factors together have created an important challenge to the rule of law in which the Court of Justice of the EU has intervened without fully resolving the legal and political issues that have arisen. I believe that by studying these and other cases of aftermaths of judicial anti-corruption campaigns we can contribute not only to the development of European legal scholarship but also to better strategic approaches to corruption control.