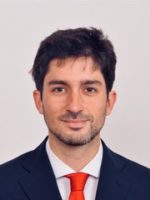 Matteo Bonelli studied law at the Universities of Turin (Italy), Antwerp (Belgium) and Maastricht (The Netherlands). In 2019, he obtained a PhD in Law (cum laude) from Maastricht University with a thesis entitled 'A Union of Values – Safeguarding Democracy, the Rule of Law and Human Rights in the EU Member States'.
Between September 2018 and August 2019, he was a post-doc researcher in comparative constitutional law at the University of Milan. He is now an assistant professor in European Law at the Faculty of Law of Maastricht University.
He sits in the editorial board of European Constitutional Law Review and was the managing editor of the review in 2017 and 2018.
His research interests are EU constitutional law, comparative constitutional law, and fundamental rights law.
Research Project
The past, present, and future of EU membership: a constitutional analysis.  The proposed research seeks to reflect on the concept of 'membership' of the European Union. Membership is a multi-faceted concept: international law, EU law, and national constitutional laws all contribute to define its meaning. Yet, membership is more than a legal concept: it is also a political and economic fact, the establishment of a relational space. One of the core ideas of European integration was to govern these relationships through law. The difficulty in doing so, however, is that law is meant to govern a landscape that is constantly moving, due to the ever-changing and ever-growing interdependence between the states. Membership has thus meant different things at different times: the same basic fact has entailed different consequences over the years. The first goal of the project is to describe this evolution of the concept of membership and to shed light on the current membership framework. Furthermore, the complex challenges the EU is facing suggest that the concept could undergo further radical changes. Brexit, for example, signals the end of the alleged irreversibility of membership; at the same time, the withdrawal process has also contributed to shed light on some core principles of the Union legal order. The Eurocrisis, but also the migration and asylum challenges, have threatened one of the defining features of membership, the principle of solidarity between the Member States. In turn, conditionality-based responses imply a different vision of membership, based on conditional benefits rather than on a system of equal rights and obligations. The second part of the project seeks therefore to explain how current events are posing new questions for the concept of membership and to illustrate in what directions the concept could further evolve. In looking at the new directions and at possible alternatives forms of participation to the EU, the project aims also to identify whether there is a 'core' of membership that should not be diluted regardless of the directions the EU will take.