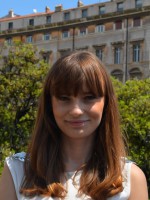 conducted her PhD research entitled 'The Role of National Parliaments in the Policing of the Subsidiarity Principle' at the European University Institute in Florence. She holds an LLM from this institution as well as a Master of Law from University of Warsaw. Katarzyna was a visiting researcher at the London School of Economics and at the Max Planck Institute for Comparative Public Law and International Law in Heidelberg. In addition she has interned at the Court of Justice of the European Union in Luxembourg (chambers of Judge M. Safjan), at the European Court of Human Rights in Strasbourg, as well as in public institutions and private practice in Warsaw and Berlin. Katarzyna's research interests concern the EU legislative process, EU fundamental rights and the Eurozone crisis as well as parliamentarism and comparative constitutional law.
Research Project
The Role of the (Member) States Legislatures as Safeguards of Federalism - A US-EU Comparative Perspective
The aim of this research project is to inquire into how the distinct institutional experience of the EU and US informs the discourse on the role of the US state legislatures and EU national parliaments as safeguards of federalism.
In response to the limited comparative research on this topic this project aims to expose the similarities and differences between the institutions and legal practice in the EU and the US relevant to the allocation of powers and competences in the legislative process. The comparison will allow an examination of policy recommendations currently under discussion on either side of the Atlantic. The output of the project will be the first systematic comparative inquiry in the field since entry into force of the Lisbon Treaty, which significantly changed the competences of national parliaments in the EU. The aim is to bring to the European debate insights from the American experience. In addition, it will be assessed whether the participation of national parliaments in the EU legislative process may offer a useful perspective on the question of whether to grant additional powers to US state legislatures.