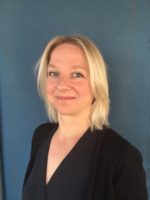 Karen Weidmann is a post-doctoral scholar and lecturer, with specialization in International Law and European law as well as Business&Human Rights. Karen Weidmann also is a government official (Regierungsdirektorin) on leave from the German federal government.
Karen Weidmann is trained as a lawyer in Germany and holds both State Exams in law as well as a masters (Diplôme d'Etudes Supérieures) in international relations from the Graduate Institute in Geneva. She received her doctor juris in law with highest distinction (summa cum laude) from Bonn University. Her thesis analyses the human rights impact of the OECD Guidelines for Multinational Enterprises and was published as Vol. 208 of the Schriften zum Völkerrecht at Duncker&Humblot Verlag, Berlin (2014, 438 p.).
Karen Weidmann has worked as research and teaching assistants at the University of Bonn and Humboldt University Berlin and today is a guest lecturer for Business&Human Rights at the University of Bonn.
Among her fields of expertise, gained through many years of working experience at the German Federal Ministry of Economics in Berlin as well as towards the OECD, Paris and the EU, Brussels, are the European Single Market, Foreign Trade Policy and Economic Policy. In addition, she gained experience with the UN System when working with the UNHCR.
Karen Weidmann's main areas of interest are legally non-binding forms of governance and (global) economic justice.
Research Project
Working Title: "Non-binding forms of regulation in systems of economic integration"  Traditional public international law today has become part of a larger normative order, where legally binding norms and non-binding forms of regulation co-exist and interact with each other. Effectiveness of governance in this normative order is not exclusively reserved for legally binding instruments. Instead, a multitude of factors influence the capacity of a norm to alter the behavior of its regulatory object. In an attempt to determine these factors, a number of what is traditionally called 'soft law' instruments have to be analyzed. This research projects is based on the assumption, that examples for non-binding forms of governance with a high degree of practical relevance and 'compliance pull' (to cite Thomas Franck) can in particular be found in systems of high economic integration. This can be regional economic integration like in the European Single Market (an example being the recommendations and guidelines by the European Financial Supervisory Authorities). It can also be sectoral or technological economic integration (examples being communications including postal services or digitalization). The role of non-binding instruments in these areas of cooperation can be compared with examples in other policy areas, such as environmental law. The aim of this research project is to scrutinize examples of effective governance through soft-law instruments and to demonstrate their increasing legal relevance, e.g. by their reference in court decisions. These findings help illustrate the changing nature of the role of 'soft law' in international economic relations and in the international regulatory order.