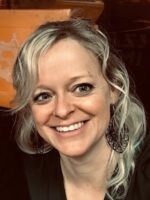 Joyce De Coninck (°1988, Oostende) holds a Master of Laws from Ghent University (2013, Magna Cum Laude), as well as an LLM in International and European Law from the Institute for European Studies – Free University of Brussels (2015, Summa Cum Laude). She subsequently obtained her PhD in law at Ghent University in July 2021 (currently forthcoming), which sought to determine whether it is possible to hold the EU legally responsible for contributions to human rights violations in the EU's Integrated Border Management, or, whether systemic deficiencies in the applicable (international and European) responsibility framework prevent such determinations.
Prior to her position as an academic assistant and Ph.D candidate at the Department of European, Public and International Law at Ghent University, Joyce conducted research at the Department of Criminology, Criminal Law and Social Law for FreSsco – an EU mandated project concerning free movement of persons and social security coordination. In addition, Joyce was a junior associate at Pappas and Associates – a European law firm based in Brussels.
At Ghent University, Joyce coached the Jessup Moot Court team, the European Law Moot Court (ELMC) team and the Price Media Law Moot Court Team, while providing skills courses for public speaking, writing and research. In addition, she has provided lectures on EU law, human rights law and asylum and migration law at Ghent University (Ba., Ma., LLM), at Loyola University (Chicago) and is a part-time lecturer of EU law and EU migration law at the University of Amsterdam. In addition, Joyce coordinates the case law overviews for the Belgian Tijdschrift voor Vreemdelingenrecht, as well as case law overviews for the European Journal of Human Rights and embarked on a brief research stay at the European University Institute in Florence (IT).
CONTACT: jd5169@nyu.edu
Research Project
Deconstructing External Frontex Action in EU Integrated Border Management: The juxtaposition of de iure human rights compliance and the (international) right to an effective remedy. The 2019 European Border and Coast Guard Regulation, along with the 2020 European Commission Pact on Migration and Asylum, entrusted Frontex with significantly enhanced competences in the operationalisation of the EU's integrated border management (IBM), including in particular in the external dimension thereof. These newly acquired powers allow Frontex - as an EU agency with independent legal personality - to conclude (informal) working arrangements with third countries and to deploy liaison officers to the territory of third states. Additionally, Frontex has acquired enhanced powers to contribute to joint (military) operations between the EU and its Member States in the enforcement of their bilateral arrangements with third states and the enactment of joint military operations conducted under the chapeau of the EU Common Foreign and Security Policy and Common Security and Defence Policy. In light of these enhanced competences, the joint nature of the cooperation between Frontex, the EU as an international organization, the Member States and third countries in IBM, and the nascent developments in the CJEU's case law on the right to an effective remedy, the question of the legal responsibility for internationally unlawful conduct by Frontex arises anew. In light of these recently enhanced powers of Frontex by both the 2019 EBCG Regulation and the 2020 European Commission Pact on Migration and Asylum, this research addresses whether  the right to an effective remedy for human rights violations as protected under international and EU human rights law, be guaranteed against Frontex action, particularly in the external realm of IBM?