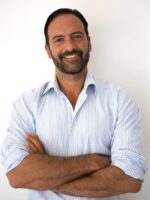 Dr Jacopo Martire has joined the University of Bristol Law School in January 2018 having previously held teaching positions at the University of Stirling, Manchester University, and King's College London. At the University of Bristol, Dr Martire is Senior Lecturer in Legal Theory and Deputy LLM Director, and he teaches Jurisprudence, European Union Law, and Social and Legal Theory. Dr Martire's main area of research is in legal and political theory with a specific focus on a reconstruction of the fundamental ideological structures of modern law in the light of Michel Foucault's theories. Currently, Dr Martire is also developing his research in three directions. First, he is exploring the question of the "Other" in its politico-philosophical declension, and in particular in relation to EU law. Second, he is analyzing the interrelation between law and new forms of technoregulation, scrutinizing how technological advancements (especially in the field of automation and algorithmic governance) challenge the classical legal model of 'command and control' and the legal-political assumptions linked to it. Third, he is examining the 'underbellly of law' by investigating the aporias and paradoxes of the modern legal discourse through the medium of cinema and literature.
CONTACT: jm9185@nyu.edu
Research Project
Autoimmunity Europe. The European Union has experienced a "long decade of crisis", moving from one crisis to the next. Each crisis (refugees, Greek debt crisis, the attack on the Rule of Law in Hungary and Poland, Brexit) has confirmed that the EU is indeed a "faltering project" plagued by contrasting nationalistic interests. How is it possible that the European project, specifically intended to bring nations and peoples together under of common roof of a shared endeavour and to offer overcome particularistic tendencies, is ostensibly failing precisely on this crucial point? This project aims at analyzing the enduring crisis of the European Union from a philosophical-political standpoint. It identifies the source of the crisis in the wrong-headed construction of EU's communitarian bonds among its member states, citizens and non-nationals, and urges for a reconfiguration of such bonds if Europe is to overcome its political stasis. The work will investigate this problem-space by scrutinizing the policies of EU integration (with regards to both second and third country nationals) using Roberto Esposito's community/immunity theory. My thesis is that the EU is affected by an 'autoimmune disease' that has prevented a fecund integration of non-nationals in national polities, generating instead an allergic reaction against the "European Other". If Europe is to survive and flourish, its roots and very foundational principles are to be re-thought so as to re-calibrate the European project towards the ideal of an open community which is its only possible messianic destiny.