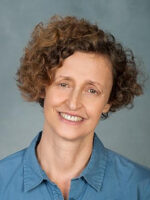 Prof. Gila Stopler is Dean of the Law School and associate professor at the College of Law & Business, Israel. She serves as the editor-in-chief of the journal Law & Ethics of Human Rights (LEHR). She also serves on the advisory board of the International Journal of Constitutional Law (ICON) and is co-chair of the Israeli branch of the International Society of Public Law (ICONS). Stopler's areas of expertise include constitutional law, comparative constitutional law, religion state relations, multiculturalism, women's rights, and democratic erosion.
Her publications appear in leading journals such as International Journal of Constitutional Law (ICON), Global Constitutionalism, Oxford Journal of Law and Religion, and Columbia Journal of Transnational Law. Stopler served as a Tikvah Fellow (faculty fellow) at the Tikvah Center for Law and Jewish Civilization at the NYU School of Law (2012), and as a research faculty fellow at the National University of Singapore (2019), as well as a Hauser Research Scholar at the NYU school of law (2004) and research fellow at the Max Planck Institute for International and Public Law (2009, 2013). She holds an LL.B. from the Tel Aviv University Faculty of Law (1995), and LL.M (2001) and J.S.D (2004) degrees from the NYU School of Law, and served as Chair of the Board of the Association for Civil Rights in Israel (ACRI) between 2013-2017.
Contact: gsp210@nyu.edu
Research Project
Women's Rights in Liberal States: Patriarchy, Liberalism, Religion and the Frailty of Rights. Around the world, including in liberal states such as the USA, populist and conservative leaders use gender to generate moral panic and ensure the success of their bid for power.  These leaders portray the social construct of gender as an enemy of the so-called natural social order and use it as a symbolic glue to unify different right-wing, conservative, religious and nationalist strands and guarantee their combined political support. Liberals have been caught off guard as the aggrandizement of patriarchy and the opposition to women's rights have become the engine of a right-wing populist revolution and rights of women that until recently have been deemed secure, nonnegotiable, and indelible are being restricted or denied altogether even in liberal states. The recent overturn of Roe v. Wade by the US Supreme Court is but one recent example. I will claim that an important reason for the success of right-wing populism and its attack on women's rights even in liberal states is that there are significant ways in which patriarchy is embedded in liberal theory and practice themselves. By analyzing the ways in which patriarchy is thus embedded I will expose the weaknesses within liberal theory and within the practices of liberal states that enable religious conservatives and populists to wage a successful attack on women's rights even in countries in which these rights are supposed to be the most secure. I will suggest ways to confront and resolve these weaknesses and strengthen women's rights.