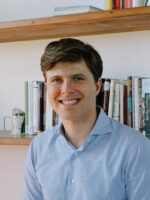 Giacomo Tagiuri is a legal scholar specializing in EU law, regulation, and economic law more broadly. His research interests also include legal and social theory and socio-legal studies. Giacomo's work explores the impact of transnational law, and chiefly EU law, on local markets. He is particularly interested in how economic regulation shapes the everyday experiences of citizens and ultimately their identities. At NYU, Giacomo will advance a new research project addressing cultural anxieties around economic transformations that are often ascribed to EU integration and digitization.
Giacomo obtained his PhD in Legal Studies from Bocconi University in Milan. Before joining the NYU Emile Noël program he was a Max Weber Fellow at the European University Institute (2019/2020) in Florence as well as a postdoctoral fellow at the Safra Center for Ethics at Tel Aviv University (2018/2019) within the project Markets, Ethics and the Law. Giacomo was also at NYU before: in 2016/2017, as a visiting doctoral researcher. He holds a law degree (combined bachelor's and master's) from the University of Bologna and a master's in European studies and international economics from the Johns Hopkins School of Advanced International Studies (SAIS). His work has been presented at numerous conferences and published in both European and American law journals. Giacomo has teaching experience in the areas of EU law and comparative public law at the bachelor level.
CONTACT:  gt870@nyu.edu
Research Project
Regulating Economic Lives: Culture, Markets and the Law. My research addresses the cultural anxieties that emerge in reaction to processes of regulatory and technological change, in particular EU market integration, and the digital transformation of the economy. By threatening to displace cherished forms of life in the market, these transformations cause concern in both popular and academic debate. Against this background, my project seeks to study the cultural consequences of these market transformations; it re-evaluates how certain economic institutions are lived on the ground by consumers, the effects of supranational economic law and technological change on these lived experiences, and the potential of law to govern those transformations that may be cause for social concern. In order to advance my project, I deploy both theoretical and methodological inter-disciplinarity. Theoretically, my project will offer a framework to articulate cultural or relational justifications for market regulation. Methodologically, my project innovates through the use of ethnographic fieldwork with consumers. During my Emile Noël fellowship at NYU, I plan to advance the theoretical part of my research agenda. In order to do so, I will draw on concepts and categories drawn from economic sociology (e.g. the notion of Economic Lives) and science and technology studies (e.g. an emphasis on materiality and ideology in the constitution and regulation of markets). My work will show that mundane market arrangements (e.g. pricing systems or distribution channels) may dispel pervasive socio-cultural consequences, because of the ways in which these arrangements perform or reinforce certain stories about market capitalism and our economic lives more broadly. This part of my research will result in a freestanding theoretical paper supported by examples and illustrations drawn from my doctrinal work on the EU internal market.