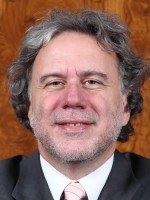 is professor of public law at Democritus University, Chair of the Department of Social Administration and executive Vice-President of the Center for Educational Research. He has worked as international expert in Albania, Uzbekistan, Armenia, Syria and FYROM and he was a legal advisor to the Greek Mission at the United Nations on Human Rights issues. His main areas of research are comparative constitutional law, human rights law and social rights. Among his monographs are: 'Social Policy and Social Rights at national and international levels', Athens, 2009 "Southern European Welfare States" (with G. Lazaridis), Palgrave Macmillan, London/N.York, 2003, "The Social state in the post-industrial era", Athens, 1998 —in Greek.
Webpage: http://utopia.duth.gr/~gkatroug/katrougalos-en.html
Research Project
Multilevel constitutionalism and economic crisis
The global financial crisis has gradually evolved into an international debt crisis, with multifaceted consequences. The Greek insolvency is a part of this global problem and the time is suitable for seeking a new systemic approach, in the framework of the emerging multilevel constitutionalism. This theoretical attempt faces an intriguing challenge, as it has to deal simultaneously with the interpretation of the political and institutional dimensions of the crisis and the compatibility of the controversial legislative instruments of the "support mechanism" with the relevant constitutional and international norms.