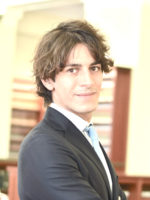 Franco Peirone has developed his legal education at Università degli Studi di Torino (Italy) where he both obtained the Master of Arts in Law (2006-2011) with full marks cum laude and the PhD in Law (2012-2015) with the highest degree (excellent). During these years he has also been at University of Maastricht (Netherlands, 2010) and at the George Washington University (US, 2014) for studying and researching periods abroad.
Franco Peirone's doctoral thesis focused on the consequences of corruption in public contracts in the light of a EU-US comparative perspective. He is a Post-doctoral Fellow at the Università degli Studi di Torino, Department of Economics (since 2015) where he has been researching and teaching in the fields of public and international law. He has been Post-Doctoral Scholar at Università del Piemonte Orientale, Department of Business (2015) too, where he has conducted researches in the area of Energy Law.
He has authored articles and book chapters published by national and international reviews on the issues of integrity, corruption, and conflicts of interest. He has been admitted to practice law having passed the bar examination (2015) at the Court of Appeal of Turin, Italy and he has worked at an administrative law firm in Torino.
Franco Peirone has recently achieved an LL.M. in International Legal Studies at New York University (US, 2016-2017) where he has also worked as a research assistant in the field of European Union Law. His academic interests include Administrative Law, International Law, and Legal Theory too.
Research Project
The Rule of Law under Corruption: a threat to Sovereignty? Corruption has become one of the most investigated issues in law literature, but a strictly legal theoretical landscape on the issue still lacks. In this project corruption is framed as a breach to the rule of law, since it hampers both the substantial and formal requirements of the rule of law. In detail corruption should be addressed as a violation of the rule (of law) that requires that all members of a legal order comply with the law: for citizens, the duty to obey the law; for governments the duty to act only within and according to the legal framework. In this model a corrupt State is not rule of law State, and where corruption is so pervasive that the State that is not capable to enforce its rule of law anymore, the State raison d'être itself is questioned. Rule of law and sovereignty are indeed not antithetical concepts, since the former requires the latter; in fighting corruption, only an effective sovereign power, not attained by corruption, may restore the rule of law. This creates a need for international action to deal with corruption. Two conditions seem needed for this purpose: first, only international organizations whose members share similar legal framework on the rule of law are entitled to address a breach made by a Member State; second, only an international subject with sovereign power is legitimate to hold a State liable for its failure in enforcing the rule of law. Within the EU is possible to find a common legal framework formed by the EU Charter, the EU principles and the Member States constitutional traditions; at the same time, Member States have delegated to the EU part of their sovereignty powers (also) by giving it the tools to pursue the Member States breaches to the rule of law.