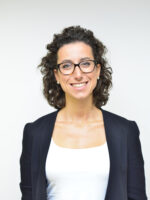 Francesca Episcopo holds a degree in law summa cum laude from the University of Pisa (2014), with a specialization in private law, and a Magister Juris from the University of Oxford (2016). She earned a PhD – doctor Europaeus, summa cum laude – from the University of Pisa, with a dissertation on the meaning and normative value of the «principle of effectiveness» in the CJEU's case-law (2019). The thesis merged analytical and methodological tools from European law, private law, philosophy of language, and theory of legal reasoning and argumentation. It was carried out both in Pisa and abroad: at the University of Oxford, as an MJur student, and at the Max Planck Institute for Comparative and International Private Law, where Francesca was awarded a two-month Scholarships for International Students. Thanks to its original methodology and results, the thesis won the Best dissertation in social sciences prize from the University of Pisa.
Francesca is currently a Postdoc at the DIRPOLIS Institute, Scuola Superiore Sant'Anna, where she works on various projects, initiatives and studies on Law&Technology as a Young Fellow of the Jean Monnet Centre of Excellence on the Regulation of Robotics and AI (EURA). Within the EURA centre, her research focuses on liability, standardization, product safety and certification, data protection and management, and users' acceptance, of various robotics and AI-based applications.
Since 2014 Francesca has been working as a teaching assistant in private law at the University of Pisa, where she has later been teaching as an adjunct lecturer at the Departments of Law and Economics.
As an Emile Noël Fellow, Francesca will further develop her doctoral dissertation, complementing the analysis of the European «principle of effectiveness» as an interpretive canon, with a broader account of its implications for the European project and it substantive conditions of legitimacy in private law adjudication.
CONTACT: fe2057@nyu.edu
Research Project
Discussing the legitimacy of the CJEU's doctrine of effectiveness in private law adjudication. A conceptual and functional analysis. Francesca Episcopo's proposal consists in the development of issues touched upon, but not yet developed, in her PhD dissertation, as a step towards its evolution into a book. Indeed, in her thesis, Francesca discussed the meaning and normative value of the principle of effectiveness in EU law, and used the methodological tools offered by philosophy of language to qualify it as an essentially indeterminate argument, whose correctness may be assessed according to the heuristic theories of legal argumentation as a particular form of practical-moral discourse. As an Emile Noël Fellow, she will complement the basic argumentative conditions of correctness and rationality of legal argumentation with substantive considerations, which could work as «steadying factors» in the movable unfolding of the CJEU jurisdiction in private law matters. To do so, Francesca will elaborate a matrix of the uses of effectiveness in different market/policy/sector scenarios, its impact on EU integration, as well as the ways and degrees in which it affects contractual relationships, to unveil the operations pursued through the effectiveness-based interpretative practice, and the role attributed to private adjudication within the EU project. The emerging picture will then be critically assessed against some basic conditions of justice peculiar and constitutive of European law, to understand how the regulatory dimension attributed to private adjudication shall be balanced against a theory of justice in private law matters, whenever considerations of efficiency and effective enforcement push its instrumental and functional use. Eventually, this will contribute to the identification of the boundaries within which the doctrine of effectiveness can be legitimately deployed to expand the horizontal application of EU law, at both the EU and national level.