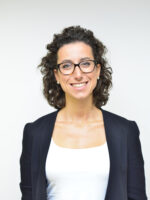 Francesca Episcopo holds a degree in law summa cum laude from the University of Pisa (2014), with a specialization in private law, and a Magister Juris from the University of Oxford (2016). She earned a PhD – doctor Europaeus, summa cum laude – from the University of Pisa, with a dissertation on the meaning and normative value of the «principle of effectiveness» in the CJEU's case-law (2019). The thesis merged analytical and methodological tools from European law, private law, philosophy of language, and theory of legal reasoning and argumentation. It was carried out both in Pisa and abroad: at the University of Oxford, as an MJur student, and at the Max Planck Institute for Comparative and International Private Law, where Francesca was awarded a two-month Scholarships for International Students. Thanks to its original methodology and results, the thesis won the Best dissertation in social sciences prize from the University of Pisa.
Francesca is currently a Postdoc at the DIRPOLIS Institute, Scuola Superiore Sant'Anna, where she works on various projects, initiatives and studies on Law&Technology as a Young Fellow of the Jean Monnet Centre of Excellence on the Regulation of Robotics and AI (EURA). Within the EURA centre, her research focuses on liability, standardization, product safety and certification, data protection and management, and users' acceptance, of various robotics and AI-based applications.
Since 2014 Francesca has been working as a teaching assistant in private law at the University of Pisa, where she has later been teaching as an adjunct lecturer at the Departments of Law and Economics.
As an Emile Noël Fellow, Francesca will further develop her doctoral dissertation, complementing the analysis of the European «principle of effectiveness» as an interpretive canon, with a broader account of its implications for the European project and it substantive conditions of legitimacy in private law adjudication.
CONTACT: fe2057@nyu.edu
Research Project