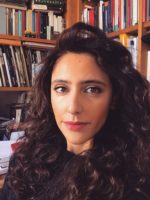 Elisabetta Morlino is Assistant Professor of Law at the University Suor Orsola Benincasa of Naples where she teaches Administrative Law and Environmental Law. She holds a Ph.D. in Global Administrative Law from the Istituto Italiano di Scienze Umane (Scuola Normale Superiore di Pisa, Italy) and an LL.M. in International Legal Studies from the NYU School of Law, as Hugo Grotius Scholar. She graduated with honors from School of Law of the University of Firenze (Italy). She has been visiting research fellow at the Max Planck Institute for Comparative Public Law and International Law, Heidelberg, Germany.
She is the author of Procurement by International Organizations (Cambridge: Cambridge University Press, 2019), I contratti delle organizzazioni internazionali (Napoli: Editoriale Scientifica, 2012) and of several articles on international organizations' governance, global administrative law, European and domestic administrative law, environmental law. 
She has served as legal consultant for the International Fund for Agricultural Development (Rome) and extern for the UN Office of Legal Affairs (New York).
Research Project
Taking "Control" Seriously. A Prolegomena to a Theory and Action Plan. Recent dramatic political events, Brexit being the most emblematic, have shown a widespread frustration and anger of European citizens at the perceived "loss of control" in the face of European governance. The most common reactions in public discourse have often been to deny or underestimate the "control" issue. The very premise of the research is that there is an easy prima facie case that the structure and processes of European governance have produced a measure of "loss of control". Thus, the main purpose of the project is to address the issue of "control" in a sober and serious manner, separating fact from demagogic fiction, and to investigate the contribution of administrative law tools to tackling the issue of "control". The project is envisaged as responding to three main set of questions: 1) What does it mean for European citizens to have control or to feel in control? How the concept of control affects legitimacy of the European Union? 2) Looking at the administrative dimension of European governance, to what extent, and how, the current administrative tools set at the European level increase, or otherwise undermine, the sentiment of control of European citizens, as conceptually framed at the outset of the research? Do the classic administrative tools, e.g. transparency, reason giving etc. effectively enhance the possibility for the citizen to be (or feel) in control? 3) What measures, alone or reciprocally combined, can actually contribute to the increase of the sentiment of control? The research will aim, first, at identifying the indicators of "control" and shaping the concept of "control" around such indicators. Second, it will map the existing administrative mechanisms in place and assess their effectiveness in relation with "control". Third, it will select and propose the administrative mechanisms most likely to contribute to the citizens' empowerment or disempowerment.