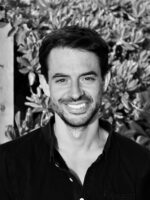 Daniel Francis is a Furman Fellow and Emile Noel Fellow at NYU School of Law, where he writes about competition and the public and private practices that shape it.  His research focuses on antitrust and structural constitutional law, including the law of monopolization, as well as constitutional and other rules that affect government action in the market.  He has a particular interest in competition in digital and high-technology markets.
Between May 2018 and January 2021, Daniel served in the antitrust arm of the Federal Trade Commission—an independent and bipartisan federal agency—as Senior Counsel, Associate Director for Digital Markets, and finally Deputy Director.  He directed and managed a wide range of antitrust enforcement and policy activities at the FTC, particularly in digital markets, and oversaw a number of the Bureau's divisions and offices.
Daniel previously served as a Climenko Fellow and Lecturer on Law at Harvard Law School (2017–18), as Associate Editor of the International Journal of Constitutional Law (2016–18), and a Visiting Researcher at Harvard Law School (2014).  He spent ten years in the private practice of antitrust law with two multinational law firms, where his work focused on the defense, aerospace, and oil and gas sectors.  Daniel also previously taught a course on European Union constitutional law and political history at Harvard College.  Daniel holds three degrees in law: a first law degree from Trinity College, Cambridge; a Master of Laws degree from Harvard Law School; and a doctorate from NYU School of Law, under the supervision of Gráinne de Búrca.  He is admitted to the practice of law in New York and the District of Columbia.
CONTACT: dsf292@nyu.edu
Research Project
Monopolization in Digital Markets. For a long time, the law of monopolization in the United States has relied on a rough and under-theorized working consensus about the contour between "competition on the merits" and "anticompetitive conduct."  But, in the last decade, the limits of this working consensus have been starkly revealed by the rise of the digital economy and the resulting proliferation of novel business models and practices.  The result has been widespread confusion and controversy about what antitrust law does and should prohibit, and even what values and goals are at stake in the enterprise of antitrust enforcement.  When may a dominant incumbent acquire a promising upstart competitor?  When may a platform with market power favor its own products and services?  How should we approach vertical restraints in platform markets?  What is "exclusionary" conduct?  The answers to these and other central questions will directly affect the wellbeing of billions of consumers, and the vitality of innovation's many frontiers. This research project begins from the premise that confusion and controversy about what the monopolization offense is--and what it should become--proceeds from confusion and controversy about the concept of monopolization itself: its content, its scope, and its normative core.  To that end, the project aims to set out a coherent account of the concept of monopolization in U.S. antitrust law and practice--grounded in normative foundations that accurately reflect the core of the American antitrust tradition--and to use that account to identify, separate, and unpick the paradoxes and riddles that have taken root in the fabric of monopolization doctrine.  The project's ultimate goal is to articulate a practical, workable framework through which the practices and phenomena that characterize the digital economy can be approached and analyzed by courts, agencies, and businesses: to protect consumers from harm, preserve incentives to innovate and invest, and faithfully reflect the political morality of the antitrust project.