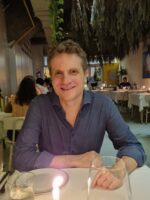 Damian Chalmers is the Geoffrey Bartholomew Chair of Law and Regional Integration and of EU law at the National University of Singapore. He has been Vice Dean of Research at the Law Faculty there for four years and head of the research cluster on ASEAN Law at its Centre for International Law. Prior to that, he was Professor of EU Law at the London School of Economics and Political Science where he was Head of its European Institute and Jean Monnet Centre for four years. He has been co-editor of the European Law Review, and has held Visiting Appointments at a number of universities including Central European University, di Tella, FGV,  Fudan, Melbourne, Michigan and Trento, as well as being a previous Strauss Fellow at NYU.
Contact: dc2448@nyu.edu
Research Project
The Political Economy of Competition Regulation in the Global South. Competition laws around the world are, on paper, often very similar. However, the ways in which these laws are acted out by competition authorities varies considerably. This study addresses this paradox. It asks what shapes the performance and authority of competition regulation in the Global South. It hypothesises that international pressures induce domestic authorities to address two significant questions: the extent of market change to be realised by a competition policy and the political salience of this policy. The interplay between these questions lead to four types of regime: economic democracy (significant market change, high political salience); transnational technique (significant market change, low political salience); elite dominance (limited market change, high political salience); simulacrum (limited market change, low political salience). However, these authorities must rely on networks of actors to provide them with the resources and authority to drive these regimes. A conditions for these actors participating in these regimes is that the latter are sufficiently elaborate and stable to grant the latter some clarity about what the regime can offer it. This leads each of these regimes a number of distinct institutional and legal properties.  Economic democracy involves widely based networks of actors  and a competition law that covers all sectors of activity and all types of conduct, but is normatively quite fluid. Transnational technique involves close networks of administrative actors and market entrants or downmarket players. It focuses on vertical restraints and mergers. Elite dominance involves networks of administrative and industrial incumbents. It focuses on small-scale cartels and foreign mergers. Finally, simulacrum involves networks of existing political and administrative incumbents who set up regulatory structures, which do or achieve little. This study explores these hypotheses through researching eight competition regimes in South America and South East Asia.