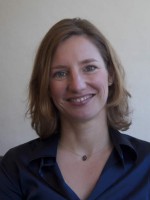 is associate professor in EU law at the Amsterdam Centre for European Law and Governance (ACELG) at the University of Amsterdam (http://home.medewerker.uva.nl/c.eckes). In 2011, she was awarded a personal research grant by the Netherlands Organisation for Scientific Research (NWO), which finances her current three-year research project entitled: Outside-In: Tracing the Imprint of the European Union's External Actions on Its Constitutional Landscape. Her PhD research at the Centre of European Law at King's College London was fully funded and resulted in a monograph entitled EU Counter-Terrorist Policies and Fundamental Rights – The Case of Individual Sanctions (OUP, 2009).
Research Project
Outside-In: Tracing the Imprint of the European Union's External Actions on Its Constitutional Landscape
My hypothesis is that the European Union's intensified external actions will most likely have implications for its delicate internal constitutional structures. While asserting the role of a single international actor the Union remains internally a complex and compound legal order in which numerous other actors participate and struggle for visibility. This apparent contradiction between the Union's ambition to create one uniform international presence and the many actors and complex structures internally, not only influences the Union's external actions, it also influences in the opposite direction the Union's internal constitutional setup. Indeed, some of the Union's external actions could profoundly change its mode of operation. Core values under EU law, as well as established organizational principles, might come under pressure. Within the complexity of the EU legal order such consequences could be exponentially more destabilizing than within a state structure (that appears monolithic in comparison).
This research project aims to identify and discuss these implications. It is planned as a theoretical inquiry illustrate with detailed empirical studies in specific areas of EU law, such as trade, environmental law, as well as examples falling within the Area of Freedom, Security and Justice and the Common Foreign and Security Policy. The identified implications of the Union's external actions will then be scrutinized in the light of state sovereignty and individualism; both theoretically and conceptually.