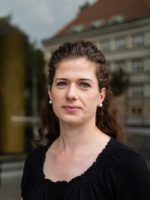 Barbara Havelková is the Shaw Foundation Fellow in Law at Lincoln College and Faculty of Law, University of Oxford. She teaches EU Law, public law, human rights, comparative equality law and feminist jurisprudence. Her research concentrates on regulation of gender during State Socialism and in post-communist transition in Central Europe.
Barbara completed her first degree in law at the Charles University in Prague, and also holds an LL.M. from Europa-Institut of Saarland University and a DPhil from Oxford. She was previously a lecturer and fellow at the University of Cambridge and visited several law schools as a guest researcher, including Harvard University and University of Michigan as a Fulbright scholar.
Barbara acts as an advisor to the Prime Minister of the Czech Republic on issues of gender and law.
Research Project
The Rationales for and the Objections to the EU Directive on Gender Balance on Company Boards. Four years ago, the European Commission presented a proposal of the Directive on improving the gender balance among non-executive directors of companies listed on stock exchanges and related measures. The Directive is novel, interesting and controversial and has met with considerable opposition. Indeed, this research project started with the observation that many of the reasoned opinions, submitted by national parliaments under the Subsidiarity Protocol, especially those coming from new post-communist Member States, appeared to object to the project of 'substantive equality' rather than to the breach of the subsidiarity principle by the Directive. This raised the question of what are the arguments surrounding the adoption of the Directive more generally. The research project will examine the rationales put forward for the Directive (by the Commission and members of the European Parliament in particular) and the objections raised (especially by the national parliaments and governments). The objections seem to fall into three groups: those targeting constitutional issues (such as competence or subsidiarity), the more technical aspects of the directive (its understanding of corporate governance and the potential for its effectiveness), and its substantive approach to equality (as equality of opportunity or even results rather than mere equal treatment). The research project will identify and examine the rationales for and against the Directive presented by the different actors involved in the legislative process, assess how they are best understood, and analyse how they relate to the constitutional landscape of the EU.