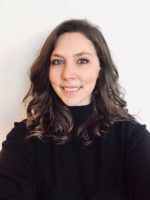 Amandine Léonard (1989 – Liège) obtained her Master of Laws with a specialization in business law (cum laude) in 2012 from the University of Liège. In 2013 she completed the LLM program of the Liège Competition and Innovation Institute (LCII) in European Competition law and Intellectual Property (magna cum laude).
Her particular fields of interests are: the fundamental rationale and objective of intellectual property laws (patent, copyright and trademark), the approach adopted by the United States and Europe regarding intellectual property laws and their limitations and exceptions, the convergences and divergences in terms of systems of enforcement, as well as the interface between competition/antitrust law and intellectual property law.
Since October 2013, Amandine is a legal researcher at the KU Leuven Centre for IT & IP Law. In January 2015, she obtained a PhD Scholarship from "Flanders Innovation & Entrepreneurship" (VLAIO) to work on the topic of "Abusive patent litigation in Europe – The prohibition of abuse of rights and Patent Assertion Entities". During her PhD she investigated patent litigation strategies adopted by patent holders both in the currently spread patent litigation system of Europe, and in the future Unitary Patent Package system.
From January to April 2018 Amandine was a visiting researcher at Stanford Law School (US) for which she received an FWO travel grant.
On 3rd May 2019, Amandine defended her PhD on "Abuse of Rights in European Patent Law – Reconsidering the principle of the prohibition of abuse of rights as an internal correction mechanism against over-enforcement practices by right holders".
Research Project
"Joint liability for patent infringement in the fourth industrial revolution (4IR) – A legal comparative study with a tort law approach." In the fourth industrial revolution (4IR), right holders may successfully obtain patents. However, due to the fact that the technology protected allows for multiple actions to be performed by multiple actors, right holders and alleged infringers may face new challenges vis-à-vis the enforcement of these patents. In case of multi-actor infringement, the traditional theories of direct and/or indirect patent infringement present some shortcomings. This situation of multi-actor infringement is not completely new. Patents in the pharmaceutical industry in Europe as well as software and business method patents in the US have led courts to protect the exclusive rights of patentees via more relaxed interpretations of infringement theories or additional theories of infringement. These theories can fall under the general heading of joint liability regimes. The main problem with the regimes of joint liability is that their role, scope and interpretation vary greatly between jurisdictions in the US and (within) Europe. The effect of a lack of a clear understanding may be that those involved in infringements may escape liability or be held liable for the same activity in more than one jurisdiction. This would represent an imbalance between appropriate relief to right holders and allocation of liability to those responsible for relevant acts. There is a need for more coherence between jurisdictions. Overall, the lack of legal certainty may act as a barrier to effective enforcement of patents in the 4IR and may also lead to more deterrence for non-infringing actions. The main objective of this research is to define and compare the fundamental characteristics of regimes of joint liability from an internal (patent law vs. tort/civil law) and external perspective (selected jurisdictions) in order to identify the role, scope and interpretation to be given to joint liability regimes in the patent enforcement framework.