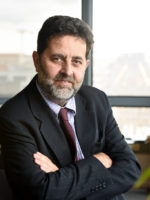 Ignacio Garcia Bercero is a Director in DG Trade of the European Commission.  Since 2012 he has been responsible for overseeing EC activities in the fields of Neighbouring Countries, US and Canada. He coordinated the work of the EU-US High Level Working Group on Growth and Jobs and was Chief Negotiator for the TTIP negotiations.
Working at the European Commission since 1987, from 2005 until 2011 he worked in the areas of Sustainable Development, Bilateral Trade Relations (South Asia, South East Asia, Korea, EuroMed and the Middle East). He was also the Chief Negotiator for the EU-Korea and EU-India Free Trade Agreements. Before that, he worked in the areas of WTO Dispute Settlement, and Trade Barriers Regulation .In the period leading to the launch of the DDA negotiations, he was working on overall coordination of WTO Policy and   was Chief Negotiator on Trade and Competition. During the Uruguay Round, he followed, inter alia, negotiations on Safeguards, GATT Articles, Functioning of the GATT and Trade and Environment. He has also been posted in the EU Delegation to the United Nations in New York.
He has written several papers and publications on the subjects of Trade Laws, GATT and WTO System, Safeguard Measures, Trade and Competition, DSU Reform and Dispute Settlement in European FTAs.
Mr Garcia Bercero has a Law Degree from the Law Faculty of Universidad  Complutense, Madrid and a Master of Laws Degree ( with Distinction) from University College , London.
Research Project
Cooperation between the EU and the US on an agenda for reform of the World Trade Organization (WTO).  The research will aim at demonstrating that it is in the interest of both the US and the EU to maintain and reinforce a "rule-based" approach to trade policy and other global economic issues.  It will present the creation of WTO as the result of a transatlantic bargain based on the recognition that the institutional structure of the previous General Agreement on Tariffs and Trade (GATT) was ill-suited to manage conflicts in an increasingly integrated global economy.  It will review the reasons why the WTO has progressively lost relevance as a negotiating forum and how this has led to the current crisis due to the policies of the Trump Administration.  The study will argue that in order to sustain politically an agenda for WTO reform there is a need to broaden support from key constituencies in the US and in the EU on the basis of a narrative that combines two elements:  a) the need to modernize rules so as to ensure a level playing field with state capitalism and respond to the digitalisation of the economy.  b) The need to place WTO reform in the broader context of domestic and global efforts to promote (environmental) and social sustainability.  It will also look into what steps should be considered to restore the dispute settlement function in WTO