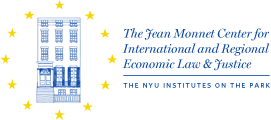 No.7/05

Author: Boris Rotenberg

Title: The Legal Regulation of Software Interoperability in the EU

Abstract: The primary aim of this paper is to point to the need for a European debate on the tension between the fundamental right to freedom of expression and the fundamental right to property in European software regulation. The analysis reveals that the analogous application of existing fundamental rights case law of the European Court of Human Rights as in Chassagnou and Appleby would probably unduly favour private property rights in software over other individual and societal interests in the form of software expression. Courts will need more guidance to find the right balance, in view of the unique nature of software, particularly so with regard to the foundational concept of software interoperability.





---

* The free viewer (Acrobat Reader) for PDF file is available at the Adobe Systems.

** rtf is a (more or less) universally readable format. Just download the file, which can be opened in most word processors.
Last updated on September 9th, 2004
This site is part of the Academy of European Law online, a joint partnership of the Jean Monnet Center at NYU School of Law and
of the Academy of European Law at the European University Institute.
Questions or comments about this site?
Email Enfellows@exchange.law.nyu.edu